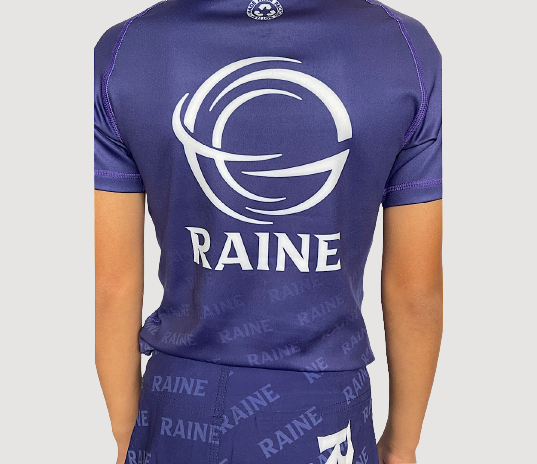 Blue Challenger - Kids BJJ Rashguard
🔥 Hot Product: Only 2 units remaining.
Regular price

$36.00

Sale price

$43.00

Unit price

per
Ready for a challenge? Meet the RAINE Clothing Children's Challenger Rash Guard, a striking bright blue Rash Guard designed to be a comfortable, stylish eco-friendly Rash Guard option for kids!
Made with a sustainable blend of 78% recycled polyester (created with 100% recycled plastic bottles) and 22% spandex, the Challenger Rash Guard for children is breathable and lightweight, making it a comfortable eco-friendly Rash Guard for your little one.
As with all RAINE Clothing Rash Guards, the Challenger Rash Guard is moisture wicking and boasts reinforced seams to ensure it's as durable as possible, whilst also offering a silicone band at the base to prevent the Rash Guard from rolling up during grappling.
With a vibrant blue colourway and the bold RAINE Clothing logo design across the front, the Challenger Rash Guard is a stylish eco-friendly option.
The Challenger Rash Guard is available in 5 sizes.
Absolutely love the quality of their products. My son wears all their fight wear for his training and competing nearly every day. I have tried other rashguards from other companies but these are by far the best quality and my son says they are really comfortable. Originally attracted to the products because they're eco-friendly and made from recycled materials which I felt was important in todays climate. Highly recommend.
5-star Trustpilot review from Mark P.
Raine Clothing Reviews
Fab all round!
Great cause and environmentally friendly. Raine fightwear have maintained consistently and affordable prices.
The quality of the items we have purchased have always been good and very comfortable for both Gi and Nogi.
I'm happy customers and definitely will recommend to my gym mates and friends.
I've purchased a few items from Raine and I must say they have exceeded my expectations, I wear my Raine Beanie constantly and my No-Gi set is amazing. I've also had the pleasure of meeting the owners, who seem to be genuine, down to earth people and committed to their ethos. Highly recommend!
My 2 sons trains Brazilian jui jitsu & wrestling 6 days a week, and this is honestly the best gym wear around, Bobby and henry love wearing it, it's comfortable and durable... also eco-freindly, the hoodie and t-shirt are great too, quality of the clothing is second to none.. this is definitely our go to for gymwear.
The quality of the products is just amazing and extremely comfortable for both kids and adults. If you want to feel comfortable whilst exercising or training BJJ, MMA, boxing and Thai boxing RAINE is the right place to get your clothing from. And plus you'll be helping to save the planet 🌎. Also the customer service is just A*; I couldn't recommend the brand enough is just amazing.
Really professional company. Great service and even better products. The classic hoody and original joggers have been favourites of mine the past 6 months, super comfy and great fit. Just think it's really awesome what these guys are doing making sustainable clothing!
Kit arrived promptly and wrapped in eco friendly packaging. Really friendly and high quality products. Couldn't find a single fault.